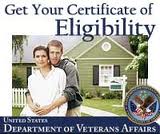 Who is eligible for a VA Loan?
Certain servicemembers and Veterans, spouses, and other suitable beneficiaries may be eligible for a VA loan. You must have appropriate credit, sufficient income, and a valid Certificate of Eligibility (COE) to be eligible for a VA-guaranteed home loan. The home must be for your own personal occupancy.
The eligibility requirements to obtain a COE are listed at the Veterans Administration Eligibility website.